Artichoke killer Gillian Leeden cleared over book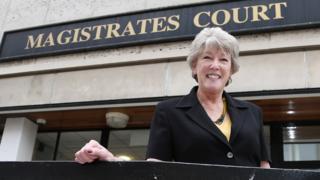 An ex-nurse prosecuted after killing her sister's artichokes and writing a book about a family feud has been cleared.
Gillian Leeden accused Deborah Lemay and Lyndsey Glassett of theft and abuse in her book Behind the Artichokes.
The 66-year-old, of St Michael's Road, Broxbourne, Hertfordshire, denied two charges of conveying false information.
At the end of the prosecution case Judge Stephen Warner ruled that she had no case to answer.
He directed the jury at St Albans Crown Court to find her not guilty, and said: "There is evidence that the information was false.
"But there has to be evidence she knew or believed it was false. I have come to conclusion there is not enough evidence."
Ms Leeden privately published 150 copies of the 213-page book, which led to her being prosecuted under the Malicious Communications Act.
The charges relate to printed allegations in her book that Ms Lemay, 69, and Ms Glassett, 72, stole £21,000 from their late mother.
Ms Leeden sent copies of the book to her sisters, family members, their neighbours in Hertfordshire and Norfolk, town councillors and a vicar.
The book was written after she was convicted of criminally damaging Ms Glassett's artichoke patch on 23 May 2014.
The relationship between Ms Leeden and her sisters broke down in 2010, the court was told.
Ms Glassett was their mother's full-time carer, and Ms Lemay told the court their mother did not want Ms Leeden to share power of attorney.
'False accusations'
Instead she gave it to Ms Lemay, her husband Brian and Ms Glassett, she said.
After her mother died in April 2014 and as a result of the "incessant unpleasantness and false accusations", Ms Glassett was said to have relocated to Norfolk from Hertfordshire.
The judge made a restraining order banning Ms Leeden from contacting her two older sisters indefinitely.
The order also stated she must not "cause any information" in her book regarding her sisters to be published or reproduced in print, broadcast or online media.