'Travellers' force cancellation of Milton Keynes school sports day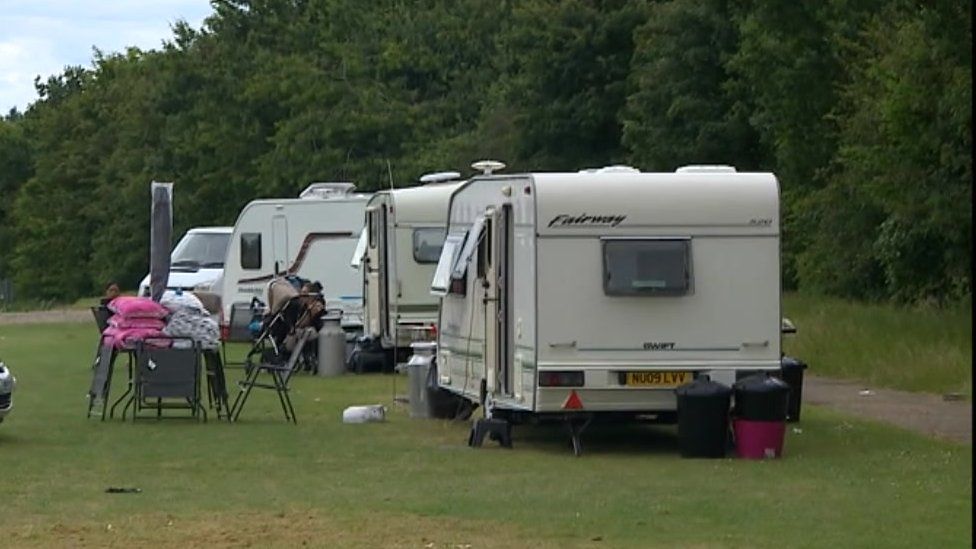 An infant school sports day has been cancelled after about 20 caravans moved on to the field where it was due to be held, according to a councillor.
The activity by Howe Park School was due to take place on Wednesday at Milton Keynes Rugby Club, opposite the school site.
Tory councillor Geetha Morla said six caravans arrived late Tuesday afternoon and their numbers soon increased.
The school's website said "unforeseen circumstances" had stopped the event.
It added the day would be rearranged in due course. The school has not commented further.
Ms Morla, who represents Tattenhoe ward at Milton Keynes Council, said the travellers arrived from about 16:00 on Tuesday, with 20 caravans there by the evening.
Paul Price, a 59-year-old Romany Gypsy who is parked on the site with his daughter, son and wife's family, said: "We never broke an entrance, it was all open, so we just come straight in.
"Sometimes we have no places to go. This is the way of our life, so why shouldn't we do it.
"We are not doing no harm to anyone, so why tar us with all the same brush?"
Ms Morla raised the motion, in which she states "there is considerable evidence of antisocial and threatening behaviour towards residents, a risk to public health through open spaces being used as a toilet, and damage to the environment through unsightly rubbish and churning up of the ground".
She is also concerned about the cost to the council of dealing with evictions, enforcements and the clean-up, saying it comes "on top of years of unauthorised encampments, but the last eight months are unprecedented".
Related Internet Links
The BBC is not responsible for the content of external sites.