Luton Airport evacuated after false alarm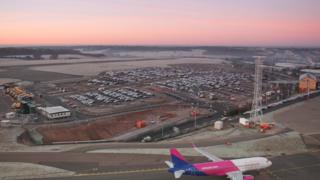 Thousands of passengers had to be evacuated from Luton Airport after a fire alarm was triggered.
People in the check-in area were evacuated to muster points outside the terminal when the alarm went off just before 13:40 BST.
Passengers arriving on flights into Luton were held in the baggage hall until the all-clear was given.
An airport spokesman said "a thorough investigation" confirmed it was a false alarm about 30 minutes later.
He believed "several thousand" passengers were affected by the false alarm and said "their safety and security is always our number one priority".
It is not known how many people may have missed their flights due to the evacuation.
The spokesman added: "We would like to thank our passengers for their co-operation and patience during this time."