Govia Thameslink 'failed taxi system' causes train woes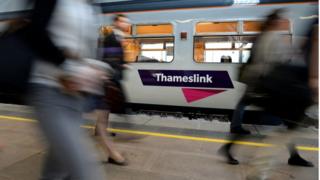 The major failure of a taxi booking system to get train drivers to work has caused further delays on already troubled rail routes.
Govia Thameslink Railway (GTR) services in and out of London were delayed or cancelled this morning, affecting Gatwick Express, Great Northern, Southern and Thameslink trains.
Commuters called the situation "ridiculous" and "farcical".
GTR apologised, saying it was working to get things "back on track".
The delays come after five weeks of disruption caused by the introduction of new timetables.
A commuter in Harpenden, Hertfordshire, who wished to remain anonymous, said: "How ridiculous. As a single parent, working full time in London I'm at breaking point."
Helen Patterson from Bedford said the situation was "farcical", adding "how can their drivers all use the same taxi company?"
A spokesman for GTR said it was "standard practice" each morning to put drivers in a taxi from the railway station they are based at to the engineering depot where the train is held overnight.
"This morning, the company we use to book taxis appeared to suffer a major failure of its booking system and taxis failed to arrive. There was no warning," he said.
"We used local cab firms where we could, but with trains not leaving their start point on time this has caused disruption across the GTR network of Southern, Gatwick Express, Thameslink and Great Northern, for which we sincerely apologise.
"We are talking to the taxi booking firm to understand how this happened and doing everything we can to rearrange our resources to get the service back on track as soon as possible."
GTR have declined to name the taxi booking firm.