Watford BMW driver who hit moped rider jailed for 13 years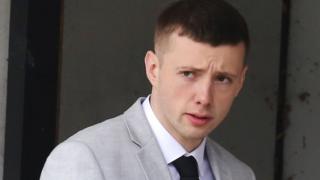 A man who drove his father's BMW into a moped rider who he said he wanted to "scare" has been jailed for 13 years.
John Boyle-Matcham, 23, steered the car into Jamie Clarke, 21, in Watford and sent him flying through the air.
Mr Clarke was in intensive care for two weeks with brain seizures and bone fractures and now walks with a crutch.
Boyle-Matcham, of St Albans Road, Watford, was convicted of causing grievous bodily harm with intent at St Albans Crown Court.
Judge Marie Catterson sentenced him to 13 years in jail.
The jury, which was told Boyle-Matcham admitted the lesser charge of causing grievous bodily harm, found him not guilty of attempted murder.
He steered his father's black BMW into Mr Clarke's silver and grey Gilera Runner 125 on North Approach Road, at about 18:00 BST last August Bank Holiday Monday.
'Bad feeling'
Prosecutors said it followed an encounter earlier in the day between the two at traffic lights at the junction of St Albans Road and Garston Lane.
In the witness box, Mr Clarke said there had been "bad feeling" between them for a number of years.
Boyle-Matcham told the jury: "I wanted to scare him.
"It was a split-second foolish thing to do, maybe with the intent to make him fall off at worst or slam his brakes on, but I never intended to hit him."
Sentencing him, Judge Catterson said: "There had been antagonism dating back a number of years - it should have been a matter of no importance.
"Mr Clarke has had to endure prolonged and ongoing treatment, and has suffered significant scarring and disfigurement."