HMP The Mount: Two-day disturbances after 'dam broke'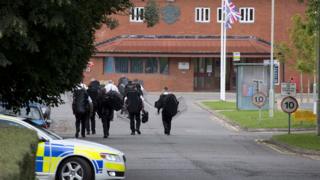 The "dam broke" amid a "draconian regime" at a prison which saw two days of rioting, a report has found.
Inmates at HMP The Mount in Hertfordshire took control of parts of three wings last summer.
The prison's Independent Monitoring Board (IMB) said it had been "locked into a vicious spiral of decline" in the run-up to the trouble but was now "well on the way to recovery".
The Ministry of Justice said the governor now "delivers a safe regime".
The Mount, at Bovingdon near Hemel Hempstead, opened in 1987 and is a "hybrid training and resettlement" category C prison with a population of more than 1,000 inmates.
The IMB's last report said "all the ingredients were in place" for the prison to suffer "a bout of concerted ill-discipline" but this had been averted by "pro-active management".
However, "in the end the dam broke" overnight on 31 July and into 1 August.
The latest 2017-18 report says the prison is now safer but it is "still falling short of the standards expected of a training and resettlement prison".
'Draconian regime'
The problems began in 2015 when The Mount became a resettlement prison which brought in a more difficult type of prisoner - younger, less compliant and more prone to violence and using drugs, inspectors said.
Fewer prison officers meant some poor behaviour went unchallenged.
With the introduction of a "draconian regime", men were confined to their cells unpredictably and "something had to give".
"But the introduction of the restricted regime should not be seen as the problem, but as a solution to the underlying problems," the report said.
Inspectors said the prison has "made slow but steady progress", new officers have been recruited and the regime has been "progressively relaxed", but it is still failing to prepare inmates properly for release and it "still has much to do to get back to being a top performing prison".
Jeff Richardson, The Mount IMB chairman, said: "The prison now has enough staff in the recruitment pipeline to be able to offer a full rehabilitative regime from the autumn."
Secretary of State for Justice, David Gauke MP, who represents South West Hertfordshire, said: "This report rightly acknowledges the dedication and professionalism of the governor, who innovatively delivers a safe regime under difficult circumstances."