Company boss jailed over deaths in Hoddesdon industrial explosion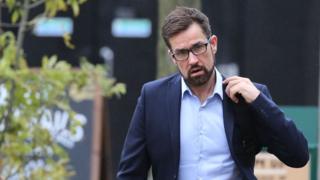 A construction company owner has been jailed after two of his employees burned to death in an explosion at an industrial unit.
Brothers Jashar Lamallari, 37, and Ardian Lamallari, 42, were injured in the blast in Hoddesdon, Hertfordshire, on 3 October 2015 and died later in hospital from almost 100% burns.
Simon Thomerson, 42, of Sutherland Avenue in Maida Vale, London, admitted breaching health and safety rules.
He was jailed for eight months.
The two brothers, from Wood Green, London, and another man were injured when vapour from flammable thinners they were using to remove old carpet tiles caught light, covering an area half the size of a tennis court at the Rawmec Business Park site.
A Health and Safety Executive (HSE) investigation found Thomerson, the owner of Clearview Design and Construction Ltd, had supplied the men with the solvents to remove the old tile adhesive, but gave "no consideration" to how they should be safely used, despite warnings on the containers.
The vapours caught light from one of several possible ignition sources in the area, investigators said.
"This tragic incident led to the wholly-avoidable death of two brothers, Ardian and Jashar, destroying the lives of their young families," the HSE's Paul Hoskins said.
In a victim impact statement, heard at Luton Crown Court on Monday, Jashar Lamallari's wife Zana said her family's life had been "completely destroyed" by her husband's death.
Ardian Lamallari's wife Ismete described her husband as "loving towards... everyone" and "an honest worker".
Thomerson admitted breaching rules relating to the safety of his employees under Section 3 (1) of the Health and Safety at Work Act 1974.