Hang Yin Leung: TV murder documentary response 'disappointing'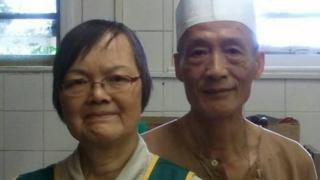 The response to a documentary about the unsolved murder of a takeaway owner was "disappointing", police have said.
Hang Yin Leung, 64, died 11 days after being beaten in the head as six men burgled her Milton Keynes home on 31 January 2017.
As shown on Channel 4's Catching a Killer, police arrested four men over the death, but no-one has been charged.
Det Ch Insp Andy Shearwood said "no new lines of inquiry were generated" by the programme, broadcast on 14 May.
Mrs Leung, who ran the takeaway restaurant with her husband, was by herself at the family home on Orne Gardens, Bolbeck Park, when she answered a knock on her door at about 18:00 GMT.
Six men forced their way into the property. One threatened Mrs Leung with an ice pick and beat her around the head with his hand.
The men stole cash and jewellery from the property, including Mrs Leung's long service medal from the Hong Kong Police and a Rolex watch.
Her husband said the pair had planned to retire and travel the world before eventually settling back in Hong Kong.
"These burglars, they had no humanity," he said.
An appeal for information was put out on the documentary about the police investigation into her death.
Det Ch Insp Shearwood, of Thames Valley Police, said: "Unfortunately there was a disappointing response.
"However, it is never too late to help us to achieve justice for Hang.
"Any new lines of inquiry will be followed up, so even if you know a small detail which could be relevant, please let us know as it could be an absolutely vital piece of evidence."