England v Croatia World Cup semi-final: Jason Manford cancels show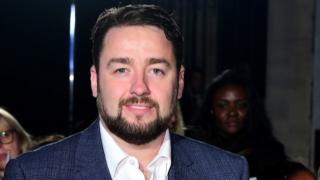 Comedian Jason Manford has cancelled his show which clashed with England's World Cup semi-final after asking fans "what shall I do?"
Manford consulted fans on social media days before he was due to perform at the Gordon Craig Theatre in Stevenage.
Gareth Southgate's team face Croatia in their first World Cup semi-final since 1990 on Wednesday evening.
Signing off his tweet with #ItsComingHome, Manford said fans would not lose out on their tickets.
He they would be able to get a full refund or transfer the ticket to a new date.
'More faith'
After Saturday's quarter-final, in which England beat Sweden 2-0, Manford asked fans "what shall I do?" about the show in the Hertfordshire town.
Replying to one disgruntled fan he tweeted: "Aye but did you reckon England would get that far!? Lol."
It is the second time Manford has rearranged the show at the theatre, after his scheduled 2 March appearance was scuppered by snow.
But many fans were happy to see the former One Show host ask them to postpone:
Some even came up with an innovative way of doing both things together:
Although one person was not pleased to see Manford ask the question of his fans:
Eventually the comedian caved into the pressure from those with tickets to his show:
When he moved the date to 11 July, people asked him to change once again as it clashed with a World Cup semi-final, but he asked them if they were Brazilian, because if not "it won't concern you".
After Saturday's game he linked to his previous posts on Facebook saying of the England team: "I really should've had more faith! Sorry boys!"