'Sacrifice' of Bedfordshire Police's WW1 veterans remembered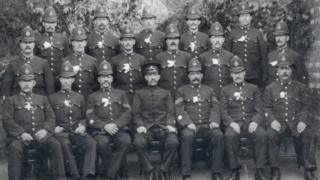 A commemorative event is being planned to honour and remember 21 police officers from one force who died from their injuries in World War One.
Bedfordshire Police is trying to trace relatives of the men, who left the constabulary to serve with the armed forces.
It is to mark the centenary of the end of the 1914-1918 conflict.
Keith Jackson, from the force's museum, said the research project was a "labour of love".
He said the event, the nature of which has yet to be decided on, would be to held to "mark their sacrifice".
He said: "There were 11 regular officers and 10 special constables who died in the war.
"I am hoping to trace the descendants of those men to ascertain some of their family histories and to invite them to attend a service."
'Sorry son, off you go'
Little is known about all the men, but records show one of them, Edmund Wressell Kirk, who was born in Bedford, joined the Irish Guards in 1907 or 1908 and then joined Bedfordshire Police in 1913 and was posted to Leighton Buzzard.
Mr Jackson said Mr Kirk remained as an army reservist, was recalled in 1914 and died of wounds at a military hospital on 18 November 1914.
"He was most probably settled down into family life, and then he gets his telegram saying 'sorry, son off you go'," he said.
He said most of his research came from war diaries and he discovered details about another veteran, George Stephen Babbington, who joined the police force in February 1912 and was based in Sharnbrook.
In 1915, Mr Babbington joined the 8th Battalion of the Bedfordshire Regiment and achieved the rank of sergeant. He died in 1917 of wounds.
"You should always be forward-thinking. Our history does shape our future and you need to be aware of the past," Mr Jackson said.
Officers who served
PC George Stephen Babbington
PC William Dean
PC Henry William Gordon
Edmund Wressell Kirk
PC Francis Joseph McCartie - died at home of TB contracted during War Service (buried in Kempston Cemetery)
PC James Norman
PC Charles Herbert Pedley
PC Walter Frederick Surridge
PC William Byron - died at home in 1920 as result of injuries sustained during War
PC James Chandler - died in Germany (Army of Occupation) 26.12.1919 during the 'flu epidemic
Charles Harold Slade
Special Constabulary
Charles W. Cooper
William Freeman
Cecil Henry Green
Albert Henley
Ralph Neale
Fredrick Robert Richmond
William James Roberts
Frederick Joseph Rolls
Frederic Baron Tanqueray
Thomas LLewellwyn Vaughan
Source: Bedfordshire Police museum