Girl's death followed failings at Luton and Dunstable Hospital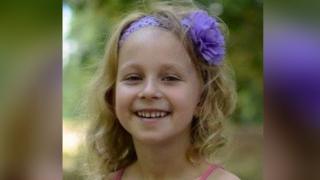 Hospital "failings" led to the death of a six-year-old girl from sepsis, a coroner has recorded.
Goda Janulevicuite died in April 2016 after going to the Luton and Dunstable Hospital.
Ampthill Coroners' Court heard Goda saw her GP, attended an urgent GP centre and was admitted to hospital twice before eventually being treated for severe sepsis.
By then it was too late and she died shortly after.
Coroner Martin Oldham said in a narrative verdict a junior doctor who saw Goda on 5 April at the hospital and discharged her without antibiotics for a sepsis was "profoundly misguided".
"Had the failings of the 5 April not taken place, Goda may have been around with us today," Mr Oldham said.
The inquest heard Goda, who had chicken pox, was suffering from pain in her back and legs when her parents rang their GP on 4 April 2016.
She went to the urgent GP centre, which said she required treatment for sepsis and Goda was referred to the Luton and Dunstable Hospital on 5 April.
But the doctor who oversaw her care that day did not see the letter from the urgent GP centre doctor and discharged her without antibiotics.
Hospital consultant Dr Gyergyi Kameras saw Goda on 6 April and started treatment for sepsis right away, but it did not make any difference.
Goda's condition worsened and she died not long after being transferred to Great Ormond Street Hospital.
The inquest heard the sepsis infection had probably entered her body through a chicken pox lesion.
Mr Oldham praised the efforts of Dr Kameras.
Hospital chief executive David Carter, giving evidence, agreed that the "death was avoidable" and that "there were missed opportunities".
He said the death of Goda was a "tragedy".