Life for Luton man who shot man in 'drugs dispute'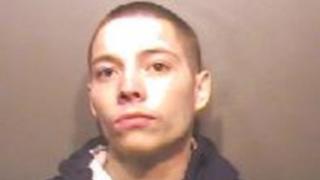 A man has been sentenced to life in prison for attempted murder after shooting a man in the back, following what police called a row about drugs.
Cameron Perry, 24, from Luton, must serve a minimum of 15 years, after sentencing at Luton Crown Court.
Bedfordshire Police said Perry shot a man in the communal area of a block of flats in Waley's Close where he lived on 2 January.
The victim was left with "lasting injuries", the force said.
Perry was found guilty after a trial in June.
"Perry had initially arrived at the victim's flat and pushed the barrel of a gun through his letterbox, threatening to shoot his way into the property," a police spokeswoman said.
"After the victim went out to the communal area to meet Perry, the two had an argument.
"As the victim tried to get away, Perry shot him in the back and he fell down a flight of stairs."
Bullet removed
Perry then left the scene.
Police said the victim, who is not being identified, arrived at the Luton & Dunstable Hospital where surgeons removed a bullet from his small bowel, which had missed a main artery by 3mm (0.12in).
Det Sgt Mark Pugh said: "The victim, who has been left with lasting physical and psychological injury, showed great courage to give evidence at the trial."