Bedford River Festival 'rude' arrested man writes police apology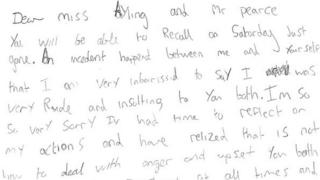 A "rude" man who was arrested for his behaviour at a festival has hand-written a letter of apology to the police officers who dealt with him.
He was arrested at the Bedford River Festival on Saturday evening on suspicion of affray and cautioned.
In his letter, he apologised to officers "Miss Ayling and Mr Pearce".
Insp Paul Ayling, who has a "very large hipster beard", saw the funny side and joked he "must have had a good time as he couldn't remember my gender".
He added: "It's always great to receive letters of thanks and apology from the public even if it is from individuals we have arrested who have seen the errors of their way."
The man, who has not been named, had been misbehaving in the crowd at the festival, and was cautioned by Insp Ayling and PC Craig Pearce once he had sobered up.
The man said he had been "very rude and insulting" to both officers and had since realised that was "not how to deal with anger and upset".