Paedophile carpenter groomed girls while wife had cancer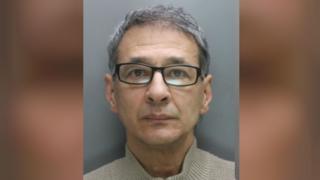 A man who groomed three teenage girls while his wife was being treated for cancer, and had sex with one of them, has been jailed for six years.
Ricardo Dias-Cyrino, 56, met his victims on a mobile phone app site and used the name "Cuddly Daddy".
He made a wooden box in which he put sex toys, and over which he spanked one girl, St Albans Crown Court heard.
Dias-Cyrino, of Loxley Road, Berkhamsted in Hertfordshire, admitted a number of child sex charges.
As part of the grooming process, Dias-Cyrino set up a fake online account in the name of a girl called Katie who spoke about how enjoyable sex with him was.
He met his first victim, a 16-year-old girl, in Hampshire in mid-2017 and plied with alcohol before taking photographs of her, putting her over a wooden box and spanking her, then having sex with her.
'Sordid and disgusting'
Dias-Cyrino, a carpenter by trade, built the wooden box which he filled with sex toys and clothing and secreted in the back of his work van, the court was told.
He groomed two other girls, both aged 16, who he persuaded to send photographs of themselves, but did not meet with either of them.
He was caught in March after attempting to meet four 13-year-old girls who turned out to be fake profiles set up by a paedophile-hunter group and a law enforcement officer.
Dias-Cyrino admitted two charges of sexual exploitation of a child, four of attempted sexual exploitation of a child, as well as distributing and making indecent images.
Sentencing him, Judge Michael Kay QC said: "The details of your offending are sordid, disgusting and in some respects extraordinary."
Timothy Bass, defending, said his Dias-Cyrino was "in a very dark period in his life - his wife had cancer, he turned to the internet and looked at fetish sites".
"He recognises he has problem and is keen to address it."