Rio Ferdinand Bedfordshire homes plans 'built false hope'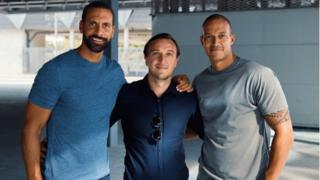 An as-yet undelivered £400m housing project, backed by footballers including Rio Ferdinand, "built up false hope," a local councillor said.
The Legacy Foundation was announced as part of a scheme to build 1,300 homes in Bedfordshire in 2016.
Building work was originally scheduled to begin in early 2017, but councillor Antonia Ryan believes the lack of progress shows it may no longer happen.
Central Bedfordshire Council said that discussions about the project continue.
The foundation, which also includes ex-Fulham striker Bobby Zamora and current West Ham captain Mark Noble, was set up to build social and affordable housing.
As well as the homes, the Houghton Regis proposal include a sports academy, a crèche, a leisure centre with a gym and swimming pool, as well as education and community facilities.
Ms Ryan, a Labour councillor, said the Conservative-run council "should have had a plan B" if the deal with the foundation did not work and "shouldn't have built up false hope".
She added: "They [the council and footballers] went to the local school to see the children, promised us homes, education deals within that, and social mobility.
"They promised us apprenticeships through Rio Ferdinand, and that is not what we got."
Ms Ryan said that she was "more than happy to engage with Legacy" but when asked if she believed the deal was dead, added: "The fact they've not come up with the goods yet makes me think it is."
'Stacks up financially'
A Legacy spokesperson said: "We remain committed to bringing forward the development and continue to work through plans with the council."
A spokeswoman for Central Bedfordshire Council said: "We continue to have conversations with Legacy, so they are clearly still interested in developing a proposal for the area.
"We will only progress with a plan that we think stacks-up financially and delivers the benefits to the existing community."