Bedford Borough Council pleads guilty after bus station death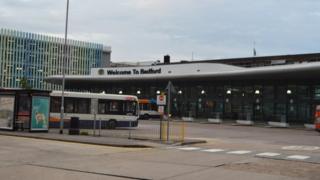 A council has pleaded guilty to a health and safety breach after a woman died after being run over by a truck delivering sand to a bus station.
Nicola Berridge, 53, from Biggleswade, had multiple injuries after being hit during the redevelopment of Bedford Bus Station on 13 February 2015.
Bedford Borough Council pleaded guilty at Luton Crown Court to failing to discharge a duty to a non-employee under the Health and Safety Act.
Sentencing will take place next year.
During the hearing, DJT Surfacing Limited pleaded not guilty to three health and safety charges.
Cambus, a third company charged in relation to Ms Berridge's death, did not enter pleas.
A trial date has been set for 11 March 2019.
Bedford Borough Council will be sentenced at the end of the trial.