Lister Mental Health Unit nurse struck off over patient's suicide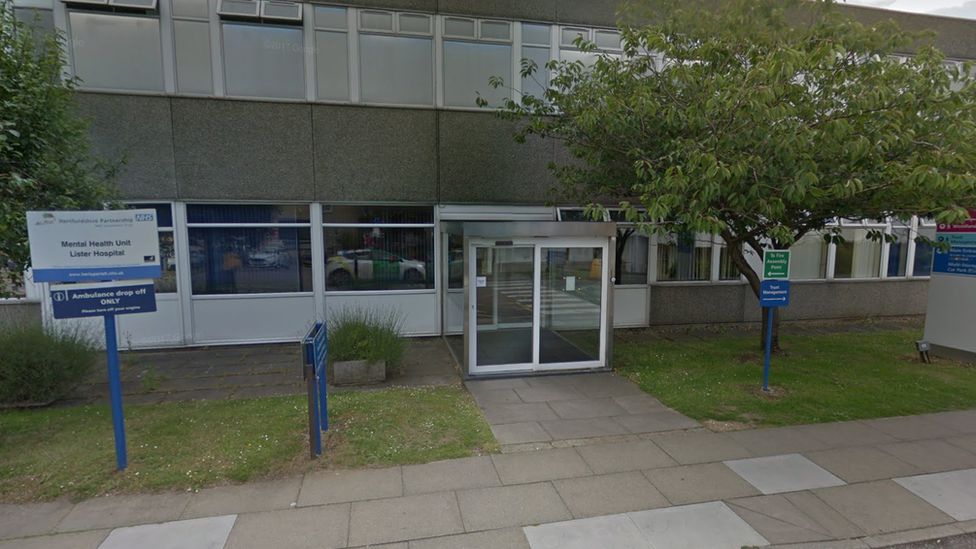 A nurse has been struck off for failing to properly assess a suicide-risk patient who took their own life.
Susannah Ajayi was found to have incorrectly assessed the patient at the Lister Mental Health Unit in Stevenage, Hertfordshire, as low risk of suicide on 22 August 2013.
She also failed to "continuously assess" the patient, who absconded and was found dead the next morning.
The Nursing and Midwifery Council (NMC) found her guilty of misconduct.
The committee heard that on the night of 22 and 23 August Ms Ajayi was working at the unit at the Lister Hospital.
The report said police brought in a patient who was found wandering near railway tracks and had narrowly avoided being hit by a train.
However, it said Ms Ajayi made an incorrect suicide assessment and did not make sure the patient was observed adequately.
The patient was found dead at about 09:15 the next morning, having apparently fallen from height.
Giving evidence, a trust manager said there were several "red flags" in the patient's behaviour that showed they should be assessed on a continuous basis, which was not done.
Ms Ajayi had also been informed of the patient's previous suicide attempt and the panel said it "found it difficult to understand" how an experienced mental health nurse "missed the warning signs". The NMC said her actions had contributed to the death.
It was later found Ms Ajayi had agreed to work the night shift despite having worked two shifts prior to this, and failed to raise that it was not appropriate for her to work when asked.
She also worked a shift at the Cygnet Hospital in Stevenage the next day.
Subsequently, she did not reveal she was subject to NMC fitness to practice proceedings on an employment application or to her agency.
The NMC concluded it had no doubt her "clinical failings and dishonesty" amounted to misconduct and ordered her name be struck off the nursing register.
Related Internet Links
The BBC is not responsible for the content of external sites.