Man died after falling ill in Hertfordshire Police van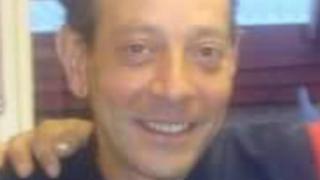 A former restaurant manager died after he was found unresponsive in the back of a police van, an inquest heard.
Luigi Basile, 48, was arrested after being found drunk in St Albans on 14 September but was "not moving" when the van arrived at Stevenage custody suite.
Officers performed CPR and used a defibrillator but homeless Mr Basile was confirmed dead an hour later.
Hertfordshire Coroner Geoffrey Sullivan concluded he died of "natural causes contributed to by alcohol consumption".
Two police officers are being investigated for potential misconduct by the Independent Office for Police Conduct (IOPC) in relation to Mr Basile's death and its findings are expected soon.
The Old Courthouse in Hatfield heard the father-of-three, from Sandridge, had a long period of alcohol-related illness and had failed to attend doctors' appointments.
On the day he died he had discharged himself from hospital and was found by PC Iftakhar Iqbal and PC Shaun Woods still dressed in his hospital gown.
He was arrested because he was in breach of an order which prevented him from going to areas of St Albans and, after being taken to Hatfield custody suite where there was no room, the van went on to Stevenage.
When it arrived, at 14:25 BST, PC Woods said Mr Basile was "not moving at all, there was no reaction" and "tried gently shaking him" before eventually he made "a gasping sound" but later died.
A Home Office pathologist confirmed he died from a cardiac arrest.
When asked by the coroner if the officers would do anything differently now, PC Iqbal told the court: "Now [with] any drunk person I would phone up the ambulance straight away - but on that day I made the correct decisions."
PC Woods added: "Looking back on it now if I come across someone drunk the safest bet is to take them to hospital - but I had dealt with Mr Basile many times before."
After the inquest, Mr Basile's cousin Susan Holmes described him as a "family clown" but that "the demons of alcohol got to him and he ended up losing everything".
In a statement Hertfordshire Police said: "Our thoughts are with the family and friends of Luigi Basile following today's inquest hearing into his death.
"Officers from the constabulary gave evidence as part of the hearing, which helped the coroner to reach a verdict."
It added that because of the IOPC's ongoing investigation it was unable to comment further.