Bedfordshire policeman sacked for gross misconduct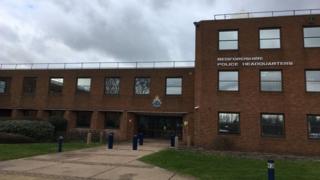 A former police officer, who looked up records of a family member's ex-partner, has been found guilty of gross misconduct.
Det Ch Insp Chris Beresford, who resigned from Bedfordshire Police in February, was found to have breached professional standards.
He was "formally dismissed" at a special case hearing at force headquarters, police said.
Chief Constable Jon Boutcher called it an "abuse of position".
Beresford had served as a policeman for 20 years.
A police spokesman said he "would have faced instant dismissal had he still have been a serving officer".
Police said Beresford had accessed force computer systems, outside of his role, on numerous occasions between November 2015 and October 2016.
'Breach of trust'
The force found he had accessed a crime report, custody record, case documents and a restraining order and sent emails to outside agencies and websites in relation to the ex-partner of a family member with no operational policing reason.
Beresford did not attend the hearing, but was represented by the Police Federation.
Mr Boutcher said it was a "breach of trust".
"Chris Beresford abused his position. He accepted his criminal acts by accepting a criminal caution in May," he said.
"I consider that he is fortunate not to have faced criminal charges.
"Police officers are trusted with access to a large amount of personal data and it is imperative that information is handled responsibly and appropriately."