Welwyn Garden City woodland theatre space idea needs 'compromise'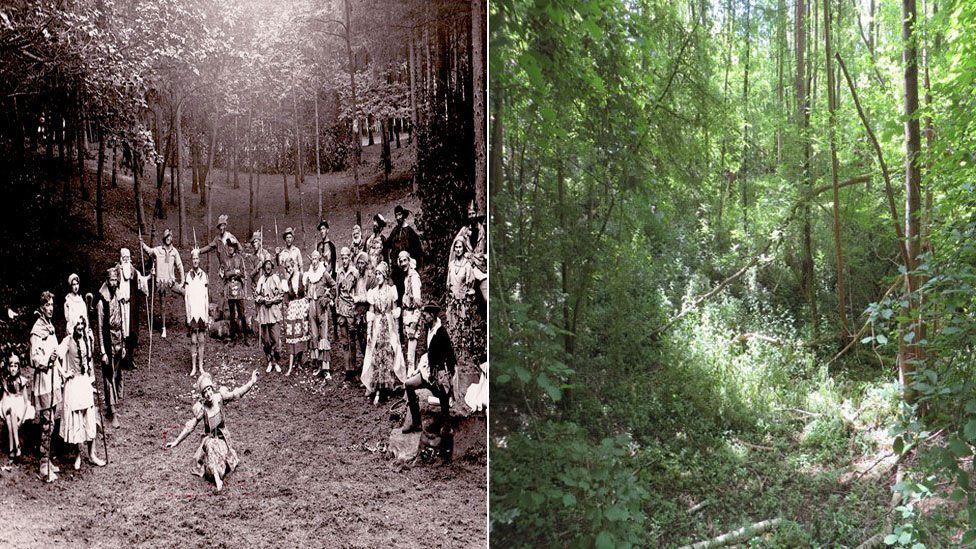 Talks are under way to agree how a woodland theatre can be recreated at a Site of Special Scientific Interest (SSSI) to celebrate a town's centenary.
The Dell in Sherrardspark Wood, Welwyn Garden City, is an overgrown space, but in the early 20th Century it hosted open-air plays and music.
The WGC Centenary Foundation want it cleared and restored to celebrate the role of theatre in the town's growth.
But it has agreed the plan's impact on the wood and wildlife needs resolving.
Welwyn Garden City was founded by Sir Ebenezer Howard in 1920 as England's second "garden city" (after Letchworth), and was designated a "new town" in 1948.
In 1925, Sir Theodore Chambers, the chairman of the Welwyn Garden City company, amongst others, suggested it was used as a place for drama and music and the first production, A Midsummer Night's Dream, took place in June. The last performance was in 1951.
It is now overgrown, but the whole of the ancient woodland was designated an SSSI by English Nature (now Natural England) in 1986.
Centenary celebrations committee member Robert Gill said it was "hard to find unless you know it's there" so they wanted to clear it, recreate the space and have information boards to explain the history.
They are not proposing to put on any performances.
"They did a play there every year, it was a well known place and well respected, special trains came out from London to it," he said.
Mr Gill said the wood wardens who looked after the area on behalf of Welwyn Hatfield Borough Council were concerned the plans might have an effect on the SSSI.
"They have knowledge and understanding of the wood and it may upset badgers or plant life - they are allowed to and do have concerns," Mr Gill said.
"It is a public wood so there is a compromise to be reached somewhere."
Councillor Tony Kingsbury said the wardens had "raised a few things we need to consider... these include access and other safety issues, and the impact on the woodland and wildlife".
He said: "We are in the process of looking into those, and we will continue to work with the Centenary Foundation as that progresses."
Related Internet Links
The BBC is not responsible for the content of external sites.