Flushed wet wipes cause Hemel Hempstead play area closure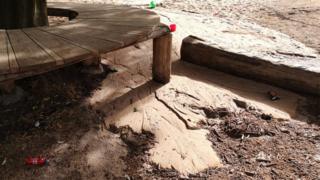 A brand new play area had to be closed for several days after raw sewage, caused by a wet wipe and 'unflushables' blockage, flooded the area.
Thames Water said it had to disinfect all the equipment at Gadebridge Park, in Hemel Hempstead, Hertfordshire, after a sewer became blocked.
It said paper towels and other items were across the park, making it unsafe.
The park was closed from Saturday to Tuesday, and 22 tonnes of specially sourced sand had to be replaced.
Jon Maw, Area Performance Manager for the water company, said: "This is a stark reminder that we must all take care with what is flushed away.
"It may seem convenient to put a wet wipe down the toilet but as we saw here, the consequences can be severe and can seriously impact the environment."
The new play area, run by Dacorum Borough Council, includes climbing frames, slides, swings and balance beams, is next to a splash park which opened in July.
Thames Water said every hour it has to clear five blockages from its sewer network, and it costs about £12m a year to deal with about 85,000 blockages from wipes and cooking fat.
It has launched a campaign urging people to stop flushing wet wipes down the toilet.