Hertfordshire paramedic dies after motorbike crash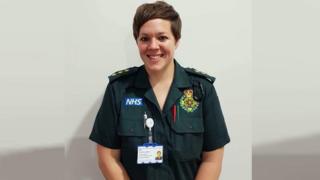 A paramedic has died after she was involved in a crash on a motorcycle.
Vicky Lovelace-Collins was treated by her colleagues from the East of England Ambulance Service and taken to hospital by air ambulance following a crash with a silver Vauxhall Insignia in Stevenage, Hertfordshire, on Wednesday.
Mrs Lovelace-Collins, who worked in North Hertfordshire, sustained serious injuries and died on Friday.
The paramedic was due to do a skydive on Sunday in memory of her father.
She was raising money for the hospice which cared for him before he passed away in May.
On a donation page for the skydive, Mrs Lovelace-Collins had written: "I'm scared about jumping out of a plane. I'm not going to lie!
"When looking for a fundraising event I wanted to do something that would take me out of my comfort zone and prove I can also be brave."
Before her death, Mrs Lovelace-Collins had raised £2,415 for Garden House Hospice Care. The fundraising total currently sits at more than £8,000.
Hertfordshire Police is appealing for anyone with information about the collision, which happened on Lonsdale Road at about 16:50 BST, to contact them.