Stevenage FC footballers in door-to-door support plea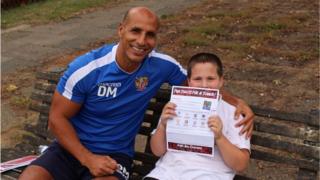 Professional footballers went door-to-door to deliver more than 300 letters to homes in a bid to boost crowds.
Players and management from League Two Stevenage FC posted the "Residents Letter", written by boss Dino Maamria.
The club said it hoped to attract some of the town's 88,000 residents to boost its average home attendance, which was 2,611 last season.
The letter, "an invitation from us to you", urges fans to back the club's bid for promotion.
"I would like to invite you to one of our matches to support us in our bid for promotion," wrote Maamria, who used to play for the club.
A total of 44,000 of the letters will be sent to selected homes in the town and surrounding villages during September.
The letter, delivered by the players on Tuesday, aims to "educate residents about the importance and value of their local football club", the club said.
"For the club to have had an average home attendance of just 2,611 last season, in a town of 88,000 residents, it suggests that something is not working," said chief executive officer Alex Tunbridge.
"We are seeking to improve our stadium, matchday experience and engagement with the community on a daily basis, in a bid to become further embedded and valued within our community. We now need the people of the town to come and play their part in supporting their local club."