Jeremy Corbyn: Gavin Shuker vote 'not start of deselection'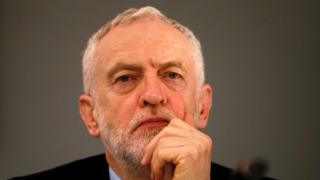 A vote of no-confidence against Labour's MP for Luton South does not signal the start of a deselection process, leader Jeremy Corbyn has said.
Local members passed the vote against Gavin Shuker earlier this month.
The Labour leader told the BBC there had "obviously been an issue" with the local party, "but that's not the start, or indeed the end, of any process".
Mr Shuker said it would be "fairer" if the party was "honest" and admitted that the vote was about deselection.
Mr Shuker, who has openly criticised Mr Corbyn, won the seat in the 2017 election with close to a 14,000 majority.
"Clearly a huge number of new members have joined the Labour Party," he said.
"They want to be able to choose their own representatives but I think it would be fairer for all involved if we were honest about that and said the aim here is to try to deselect MPs across the patch.
"I want to remain as the MP for Luton South for as long as the people of Luton South will take me.
"The people who are disconcerted with my performance are disconcerted based on my position within the party, not my performance as a member of Parliament."
Mr Corbyn said that the vote did not change anything about Mr Shuker's role as an MP.
"He works hard to represent the constituency and he's obviously ever-present in Parliament, taking up issues there," he said.
"The selection process doesn't begin for the next General Election for some time."