George Harrison Hindu temple barn destroyed by fire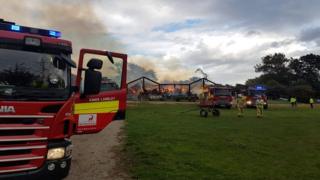 A temple which was donated by George Harrison has been saved from fire after flames ripped through another building at the spiritual retreat.
The fire at Bhaktivedanta Manor in Aldenham, near Watford, happened at about 13:00 BST on Friday.
Its boss said the Hare Krishna temple had reopened for worship but the hay barn had been completely destroyed.
Gauri Das said he was "deeply grateful" to three men who "jumped into action" to help when the fire broke out.
The managing director said the main building, as well as the large barn and workshop areas, remained undamaged, and no-one was harmed and all the cows were safe.
He said the cause of the fire was still being investigated.
Mr Das said: "We are incredibly grateful to the fire services for their speedy response and clear expertise and bravery in tackling the blaze.
"We are also deeply grateful to an off-duty police officer and two other lads, one with an English three lions tattoo on his upper arm, for jumping into action with a take charge attitude in clearing buildings and securing the site.
"They just happened to be visiting the farm and we do hope to track them down for an official community thank you."
He said they would rebuild the barn.
The Beatles star donated Bhaktivedanta Manor to the International Society for Krishna Consciousness (ISKCON) in 1973.
It is the UK headquarters of the Hare Krishna movement, which is a branch of Hinduism.
The retreat hosts Janmashtami, the largest Hindu festival in Europe, which marks the birth of Krishna, a popular God in the Hindu Pantheon.