Cottonmill crossing 'near miss' prompts further warning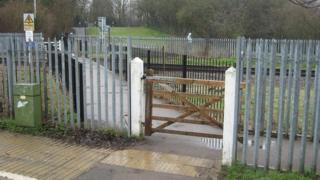 A pedestrian's "split-second" decision to step back from tracks at a level crossing has prompted a further safety warning from Network Rail.
A train was almost on the Cottonmill Lane foot crossing in St Albans when the pedestrian "narrowly avoided serious injury or loss of life".
The rail firm is looking at alternative options such as a footbridge, underpass or diversionary route.
A campaign group has been set up to save the foot crossing.
A fortnight ago, its future was discussed at a public information event in the city.
Network Rail said the latest incident, on 22 September, was "shocking" and it highlighted why alternatives were needed.
'Tragic risks'
The firm released details of 845 other dangerous incidents at the crossing recorded in two separate covert camera surveys in 2015 and 2017.
It said that figure is greater than the 787 that appears on signage at the crossing as it had identified further examples including pushchairs becoming stuck, cyclists not dismounting when they should, and people lingering on the crossing.
Network Rail's level crossing manager, Lucy Chadderton, said it was a reminder of the "potentially tragic risks of using a level crossing unsafely" and urged locals to observe safety warning signs ahead of any decision on its long-term future.
She said: "Meanwhile we are working to further improve the crossing including straightening the walking route and improving the crossing surface."
The Save Our Cottonmill Crossing Action Group has argued that the crossing is a vital link to get to schools and businesses and appropriate safety measures should be put in place such as flashing lights, self-locking gates and orders to train drivers to use their horns when approaching.
In a statement, the group said it wanted the crossing "to be safe" but that "in all the years this crossing has been here, no-one has died or had a serious injury based on intentional or unintentional misuse of the crossing".
"Our main issue and one that we are thoroughly investigating is that Network Rail's reported statistics being used to classify the risk level of our crossing is fundamentally questionable," it said.