£9.5m of 'community cash' unspent in Buckinghamshire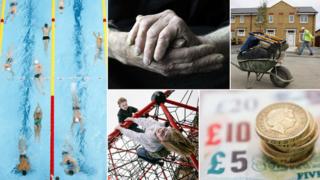 Councils in Buckinghamshire have held on to millions of pounds earmarked for social and community projects.
Wycombe, South Bucks and Chiltern district councils have failed to spend £9.5m given to them by developers.
The money is from Section 106 (S106) agreements which are negotiated between developers and councils when new homes are built.
Wycombe's cabinet member for housing, Julia Langley, said the authority is working on plans to spend the money.
Money from S106 agreements can be used to help fund affordable housing, roads, parks, schools and youth services.
In 2014, it was revealed councils in England were holding on to £1.5bn of unspent S106 money.
'Disgraceful'
A freedom of information request by the Local Democracy Reporting Service revealed Wycombe District Council has accrued £3.5m of S106 money.
Chiltern District Council has £1.6m, while South Bucks District Council has £4.4m - but most of this has been allocated to projects.
Wycombe district Labour councillor Khalil Ahmed said it was "disgraceful" the money had not been spent.
"It is unacceptable that the council's cabinet for housing and the leader of the council have not allocated this desperately-needed money," he said.
"Wycombe District Council has the potential to improve lives in the communities that councillors have been elected to represent."
Conservative councillor and cabinet member for housing at Wycombe District Council, Julia Langley, said the authority has been "working with registered housing providers on plans to spend a significant proportion" of the money.
Chiltern and South Bucks District Councils have been approached for comment.