Luton sex trade: MP aims to make paying for sex a crime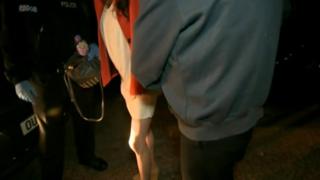 Paying for sex should be a criminal offence, says an MP who wants stronger action against prostitution.
Luton South MP Gavin Shuker has started an initiative to tackle sex trafficking and sexual exploitation called Luton Against Sexual Exploitation (LASE).
Men who pay for sex are fuelling a growing problem of sex trafficking, the Labour MP said.
He said a police initiative, begun in 2013, was viewed as a failure by many residents.
Residents of the High Town area claimed the situation had become worse during the existing five-year campaign, with prostitutes plying their trade at all times of the day.
After an open meeting in September, Sgt John Killick said: "Five years was not enough as a lot of the women involved in the sex trade were vulnerable for many different reasons.
"We need to tackle all these issues and signpost women to places where they can get help."
Mr Shuker is chairman of the All-Party Parliamentary Group on Prostitution which found sexual exploitation of women in pop-up brothels was widespread across the country.
The committee recommends the government should make paying for sex a crime.
'Fifth generation'
The new initiative in Luton is being launched at the offices of Azalea, a church-led group that offers support to women who want to escape from the sex trade.
Ruth Robb, the charity's chief executive, said it had seen women who were "fifth-generation involved in commercial sexual exploitation" but had a recovery programme in place to help them "be free".
"We want to break those cycles that are endemic within Luton," she said.
Mr Shuker added: "Our message to any man considering buying sex in Luton is clear - paying for sex is abuse.
"If you pay for sex you will be committing sexual abuse and funding a dangerous and exploitative industry.
"You will also be committing a crime if the person you pay for sex has been forced or coerced."