Billie Lord inquest: Family questions mental health unit staffing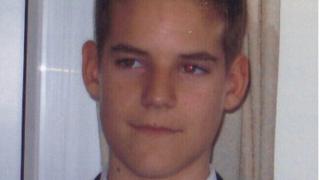 The family of an autistic man who died after absconding from a mental health unit have raised concerns about its staffing levels at his inquest.
Billie Lord, 26, broke out of the Campbell Centre in Milton Keynes hours before he was hit by a train in 2017.
The barrister representing Mr Lord's family questioned whether there were an "adequate" number of nurses on duty.
A Central and North West London NHS Trust spokesman said staff "responded immediately" to the incident.
Milton Keynes Coroners' Court heard how Mr Lord, who had Asperger's syndrome and was selectively mute, was admitted to the centre on 9 July after threatening his mother with a knife.
He tried to escape twice on the day he arrived, causing nurses to increase their observations from once an hour to once every 15 minutes.
However, during his second night on the unit, at about 04:00 BST, Mr Lord managed to get out by smashing a toilet and breaking a window. He died hours later after being hit by a train.
The court heard there had been eight members of staff on duty that night, three of whom were on a break when Mr Lord escaped.
Edward Pleeth, representing Central and North West London NHS Trust, said they "responded immediately" to the situation after hearing a noise.
But Paul Clark, a barrister representing Mr Lord's family, said there were concerns about "what they were doing" and whether the staffing was "adequate, considering the circumstances".
Mr Lord had been treated by the Campbell Centre's acute home treatment team for about a week before he was admitted to the centre and was said to be making "marked improvements".
Dr David Marchevsky, the consultant psychiatrist at the hospital, told the inquest that if he had been in charge of Mr Lord's care earlier, he would have increased his dose of anti-psychotic drug, Risperidone.
"Whether that would have changed the series of events that led to the admission, I don't know, but I think it could have been prevented," he said.
The inquest continues.