Billie Lord inquest: Room move 'increased patient's stress'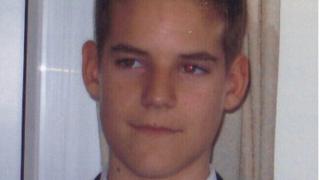 An autistic man should not have been moved into a shared dormitory from a single room at a mental health unit, an inquest into his death has heard.
Billie Lord, 26, broke out of the Campbell Centre in Milton Keynes and was hit by a train just hours later.
A psychiatrist told Milton Keynes Coroner's Court he should have stayed in a single room "because a move would increase his stress".
Mr Lord had Asperger's syndrome as well as anxiety, depression and psychosis.
The inquest heard he was admitted to the Campbell Centre on 9 July and two days later broke out, ripping a toilet from a bathroom wall and smashing a double-glazed window.
He had tried to escape twice before medical staff moved him to a dormitory room shared with two other patients.
Consultant psychiatrist Dr Laurence Mynors-Wallis told the inquest: 'Without any doubt, it's my opinion Billie should have been in a single room ... because of all his difficulties."
A patient with autism or Asperger's syndrome would have "increased triggers" for psychosis such as stress and Mr Lord may already have been 80% stressed before the move and "additional stress might increase that to 90%", Dr Mynors-Wallis said.
Fay Lord, Billie's mother, said she was "very shocked" he was put into the dormitory.
Dr Stephanie Oldroyd, clinical director of Central and North West London NHS Trust, said: 'We now have a number of single rooms and some remaining dormitory.
"Unfortunately, down to resources, the floor plan and size of the building, we're not able to move to single-room completely."
Mr Lord's psychosis was likely linked to his use of drugs including cannabis which he used every day "to deal with his stress levels", the inquest was told.
The coroner is due to give his conclusions on Friday.