Hertford Castle poppy display a 'touching tribute'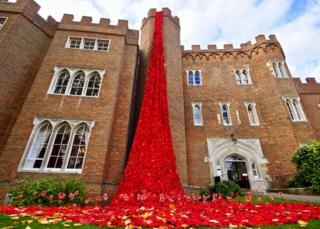 More than 15,000 poppies will cascade down Hertford Castle to mark the centenary of the end of World War One.
The poppies have been knitted and crocheted by The Secret Society of Hertford Crafters, as well as school children, people in care homes and other local volunteers.
More than 170 miles (270km) of wool has been used to create the installation ahead of Remembrance Sunday.
Society member Jo Baily said it was "a touching and very emotional tribute".
Ivy Buck, 100, is the oldest person to knit a poppy while six-year-old Bodhi Gover is the youngest.
Ms Baily said the experience, which started out as a closely-guarded secret, had been "absolutely wonderful".
"We wanted to find a way to commemorate and remember all those who fell during the First World War, but also to raise money," she said.
"Forty women turned up to our first meeting with no idea what they were letting themselves in for.
"It was very brave, but now they all say it's been absolutely wonderful."
'Spectacular'
As well as the knitted flowers, there is also a wreath made up of 352 poppies - one for every Hertford serviceman who died in the conflict.
The group has also knitted a mini-wreath for each of the 31 graves from World War One in the county.
All funds raised from the installation - which will be on display until 19 November - will go towards The Royal British Legion which launches the county's Poppy Appeal at the castle on Saturday.
Conservative councillor Peter Ruffles, the deputy mayor of Hertford Town Council, said it was "delighted" to be involved with the "spectacular" display.