Luton Airport's 'throwing' baggage handlers investigated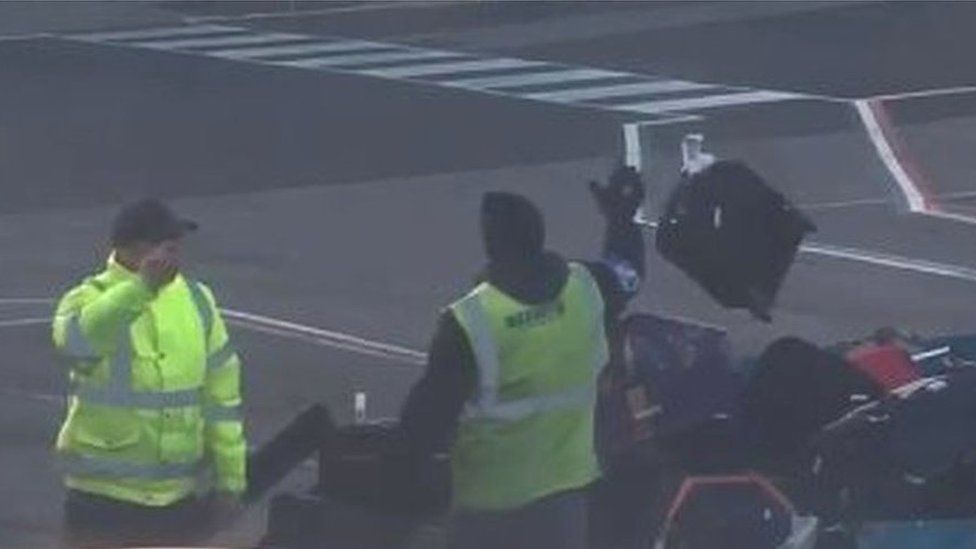 Two baggage handlers at Luton Airport are under investigation after a passenger filmed them throwing luggage coming from a plane's hold.
The footage, uploaded on social media by Rob Button, is believed to have come following a Wizz Air flight from Poznan, Poland.
Azzurra, an Italian company contracted by Wizz Air for baggage handling, has apologised.
The firm said that the company would deal with the matter internally.
The BBC has contacted Wizz Air and Mr Button. Luton Airport is not responsible for ground handling services.
Mr Button told the Metro: "I could see them throwing the bags without any care for anyone's belongings. It's the disregard they had that bothered me.
"I filmed them for a while, it was just for a short while, that's clearly how they unload the luggage."
Azzurra's UK station co-ordinator Gennaro Carcassa said it: "continuously strives to meet customer and stakeholder expectations and I apologise on behalf of the company that in this instance those expectations have not been met.
"The individual employees identified in the footage are now under investigation and the matter will be dealt with via our internal company procedures."
A Luton Airport spokesman said: "We expect all third parties operating at London Luton Airport to uphold our high standards. Where this is not the case, we work with our airline partners and their ground handling agents to take any appropriate action."
Related Internet Links
The BBC is not responsible for the content of external sites.