Firefighters tackle 'horrendous' Kensworth barn fire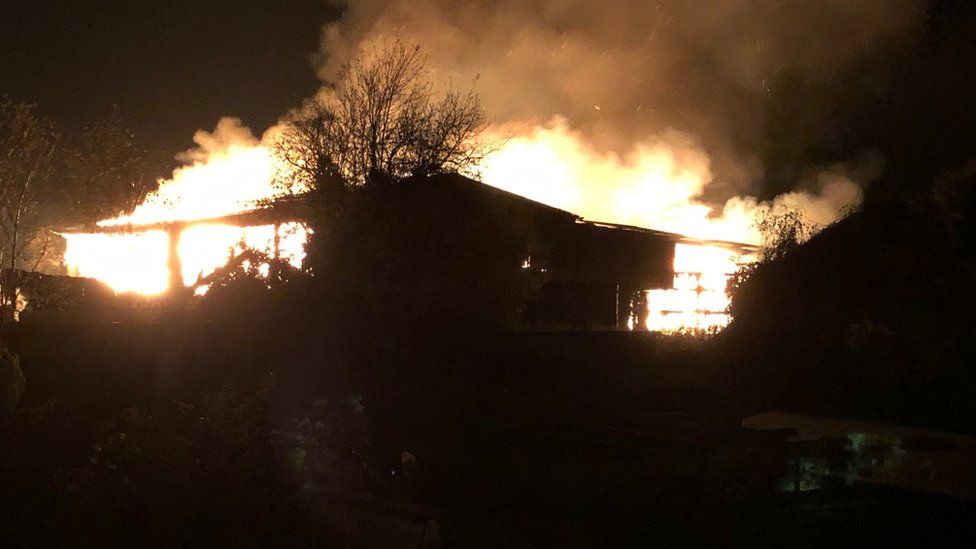 Up to 30 firefighters have spent the night tackling a large barn fire involving 7,500 hay bales and animal bedding.
Bedfordshire Fire & Rescue Service has been at Dovehouse Farm, in Kensworth near Luton, since 19:00 GMT on Wednesday.
Eyewitnesses have described the scene as "horrendous" and "really scary".
A fire break has been put in place to stop it spreading further and crews are letting it burn out.
Pat Mitchell, who lives behind the barn, said she was first alerted when she heard "popping", which she thought was fireworks, but it turned out to be solar panels breaking.
"I looked out my window and all I could see was fire. It was horrendous. Really, really scary," she said.
"It was so close, incredibly big.
"There was nothing we could do to help as it was hay on fire... there were no animals in that barn, but I did call the neighbours to let them know."
A spokesman for the fire service said: "Crews have worked hard through the night to protect the surrounding area with the help of the barn owner."
They confirmed no animals were hurt.
Related Internet Links
The BBC is not responsible for the content of external sites.