Azaan Kaleem death: Mother cannot forgive killers for laughing at trial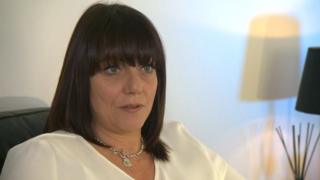 The mother of a teenager who was stabbed to death said she cannot forgive his killers after they "laughed and joked" at their trial.
Azaan Kaleem, 18, was with his girlfriend in Luton in March when a group of strangers "piled out of a car" and stabbed him. He died in hospital.
Four men were convicted over his death on Thursday at the Old Bailey.
Roseann Taylor, who switched off her son's life support, said: "They had no remorse or regard for what they did."
Mr Kaleem, who was Ms Taylor's only child, was "viciously attacked" after a disagreement.
Two men aged 18 and 19, who cannot be named, and Harrison Searle, 18, of Derwent Road, Luton, were convicted of murder.
Reece Bliss-McGrath, 20, of Exton Avenue, Luton, was found guilty of manslaughter. All four will be sentenced next month.
Ms Taylor sat through their four-week trial, in which CCTV footage of the fatal attack was repeatedly played.
"What I saw was like a pack of animals - rounding up, seeking something, finding it and stalking it - and that's what they did to my son.
"I had to watch the CCTV of my son being murdered and all the while I was keeping my composure, the defendants laughed and joked and had fun.
"Azaan was just a person to them, he was just a name."
She said she got a call about the attack in Hartsfield Road and had hoped her "accident-prone" son would be [sitting] on the kerb, moaning about his latest scrape.
Instead, he was prone on the pavement, surrounded by paramedics. He had been attacked at 17:20, in full daylight.
"I was blocked by a police officer," she said.
"That was soul-destroying - to know your child is lying on the floor and you know it's serious and you can't get to them."
Asked about her last memory of her son, she said: "Switching his machine off.
"It was horrific. To stand behind your child and stroke their hair, and kiss their forehead and wait while a policeman has to watch for his heart to stop beating.
"They [the killers] even stole that moment, because it wasn't private.
"I wanted Azaan's organs to be given away because he was a healthy 18-year-old, and I wanted to give the gift of life to someone else.
"But Azaan became evidence we weren't allowed to do that."
She added: "It's changed my life for ever. No-one will ever call me mum again.
"I will get there one day, I will forgive them, but not yet."