Milton Keynes councillor told to apologise to police officer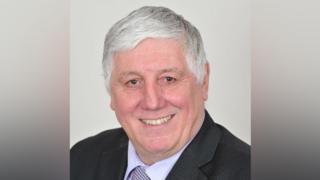 A former Tory councillor has been censured for saying a police officer should "still be at school".
Two misconduct allegations were made against Andrew Dransfield over remarks at a parish meeting in Milton Keynes.
Now Mr Dransfield, who also told her to "go and do your homework", has agreed to apologise to the officer.
But he dubbed the standards hearing as "political correctness gone mad" and said he was angry council money had been "wasted".
Mr Dransfield was judged not to have breached conduct rules when, at the same meeting, he told a fellow councillor to "get a sense of humour, silly woman".
Complaints were made against Mr Dransfield, a member of both Milton Keynes Council and Loughton & Great Holm Parish Council, after a meeting of the latter in November 2017.
A Milton Keynes Council standards hearing found he breached conduct rules with his comments to Thames Valley Police officer Kate Hiscocks during a presentation on crime statistics.
When Labour councillor Zoe Nolan objected to the comments, he called her a "silly woman".
'Incensed'
The report said Mr Dransfield, aged 71, intended the comments to be a joke about himself "because one knows one is old when the police officers look so young".
He must now apologise to both women and consider taking part in mediation sessions with Mrs Nolan.
After the ruling, he described the process as "silly".
"It is political correctness gone mad. I was teasing a young police officer and it has been blown out of all proportion," he said.
"I am really incensed that money has been wasted on this which could have been spent on something more important."
Mr Dransfield was suspended from the Conservative Party in June after not paying his membership fees. He said he intends to stand down at the local elections in May.