Up to 60 relatives of Bedfordshire Police WW1 soldiers traced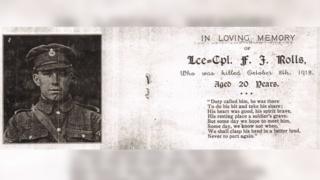 Up to 60 relatives of police officers who served as soldiers and were killed in World War One have been traced following an appeal by a police force.
Some 22 Bedfordshire police officers died as a result of their injuries in the 1914-18 conflict.
The project has meant the family of L/Cpl Frederick Joseph Rolls unearthed "forgotten" details of his life which they were unaware of.
A commemoration service takes place at St Paul's Church in Bedford on Sunday.
L/Cpl Rolls, who was from Potsgrave near Woburn, signed up for the Army in Ampthill in 1914 and joined the Hertfordshire Regiment.
He died, aged 22, on 8 October 1918, a month before the Armistice on 11 November.
Yvonne Smith, 72, his great-niece, said her family was particularly looking forward to the service as her husband, George Smith, 72, has been researching his past.
He began after he went through an envelope of documents kept at his mother-in-law's house.
Mr Smith said it was "a real privilege to attend [the service] and remember the forgotten soldiers".
"By that I mean the family knew he had been a soldier, but it wasn't really talked of, and we didn't know where he was buried or anything else until I went through the papers and followed things up," he said.
"It became a bit of a detection job for me - I feel so proud he's been highlighted."
Mr Smith was able to confirm to his wife's family that he was buried in Naves Communal Cemetery near Cambrai, France.
Mrs Smith said: "He must have been some bloke to have gone through what he did and it was terrible to get killed just before the end of the war."
Trevor Rolls, Mrs Smith's brother, said: "I never knew my great-uncle, but I am going to this fantastic event to respect him, my grand-father, who also fought in the First World War, and every other person who served, lest we forget."
Keith Jackson, from the Bedfordshire Police Museum, who organised the event, said he was "really pleased" with the response.
"The servicemen have not been remembered as much as they should have, and this is what we are hoping to address with this service," he said.