Luton Town racist insult investigation 'not ended'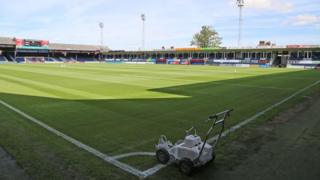 Reports racist abuse was hurled at a footballer during a Luton Town game are still being probed - despite an earlier suggestion investigations had ended.
Bedfordshire Police received two reports of abuse during the club's home match against Accrington on 23 October.
The force said one investigation, involving racist chanting, had ended, but another involving an insult directed at a player remained open.
It previously said inquiries had yielded "no evidence" of the comments.
"There were two allegations made regarding the behaviour of supporters during the match," it said, in a new statement to "clarify" the investigation's status.
"In relation to alleged racist chanting, we have investigated several lines of enquiry, including interviewing witnesses and reviewing audio footage of the game and CCTV.
"We have not identified any specific comments or suspects and found no evidence of an offence being committed, so the investigation has now been filed.
"We are continuing to investigate a separate allegation of racist comments directed towards a player during the match."
Luton Town declined to comment.