Peter Day death: Headphones runner 'oblivious' to lorry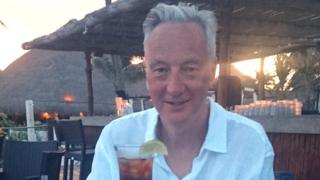 A runner wearing headphones was "completely oblivious" to a lorry which fatally hit him when he stepped out into a road, an inquest has heard.
Peter Day, 60, was running on the afternoon of 20 June near Clothall, Hertfordshire, when he ran on to the A507 carriageway without looking right.
He had "run straight out into the road", into the path of an oncoming Mercedes HGV, a court heard.
The driver had "insufficient time and distance" to avoid him.
At the Old Courthouse in Hatfield, senior coroner for Hertfordshire Geoffrey Sullivan said Mr Day's "headphones are likely to have prevented him from hearing the lorry".
He concluded Mr Day died as the result of a road traffic collision.
Collision investigator Peter Wood told the court dashcam footage from the lorry showed the runner looking across the road but at "no point" looking in the direction of the lorry.
Analysing footage of the moment Mr Day was hit, Mr Wood said he was "completely oblivious of the truck that's about to hit him".
Lorry driver David Hackett told police Mr Day had "run straight out into the road" and that he had "slammed on the brakes and swerved to the left" but was unable to avoid the collision.
A report into the crash found that Mr Hackett, from Shropshire, had about 21m (68ft) and 1.2 seconds to react, which it concluded was "insufficient".
It added that it was "likely" post office manager Mr Day, from Baldock, was listening to music at the time of the crash.
He was pronounced dead at the scene.
After the crash, his wife Cilla, with whom he had a daughter, said: "We were a very close family. Peter loved to be at home with us, he was very family-orientated and very traditional.
"He was a quiet and gentle person."