Cost of new North Hertfordshire Museum goes up £1.4m after row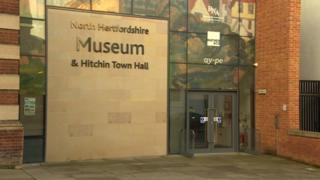 The cost of a new museum has gone up by a third to £6m after the end of a five-year row over its main entrance.
North Hertfordshire District Council (NHDC) has agreed to purchase the land in Hitchin from Hitchin Town Hall Limited (HTHL) for £550,000.
Councillors said the process had been "difficult" and "a shambles". HTHL said it was "delighted" a deal had been reached.
The museum will now open fully next year.
The dispute meant the new museum could not open as planned in 2015 and left tour groups entering through the town hall instead.
The original cost of the project was £4.5m including £2.7m of funding from North Hertfordshire District Council.
However, the authority will now have to pay nearly £5m, almost double the original estimate.
The Heritage Lottery Funding is providing the remaining £0.95m.
The plans date back to 2010 when NHDC decided to convert the building, which it owns, and adjacent land at 14 Brand Street, into a new museum and venue.
In 2013 the project was expanded to include 15 Brand Street, but planning and legal issues prevented the authority from buying the land needed for the main entrance.
Stephen Pike, chairman of HTHL, which owns 14/15 Brand Street, said: "I am delighted that we have secured for the community this agreement."The District Museum can now be opened to the public and we look forward to the official opening."
'Difficult and protracted'
Labour councillor Ian Albert, chairman of Hitchin Committee and a member of the finance committee at NHDC, said: "It's been a shambles of historic proportions.
"It could have been resolved if people had just sat down in a room together and talked it out sensibly, for the benefit of local residents."
"It is just a mess financially," he added.
Responding, Conservative councillor Tony Hunter, executive member for community engagement at NHDC said: "It has been very difficult and very protracted.
"The important thing is we are there at long last: a settlement agreement will be signed, the transaction will go ahead and the people of north Hertfordshire will have a facility to be proud of."