Catherine Scott inquest: 'Nobody looked after' writer's mental crisis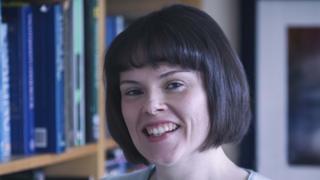 A writer who died after falling from a hospital car park had been left waiting hours for a mental health assessment, an inquest has heard.
Catherine Scott, 34, told a mental health nurse she was "struggling to cope" at about 09:00 BST on 23 May.
Milton Keynes Coroner's Court heard no staff were available to perform the assessment until the afternoon.
Coroner Tom Osborne said "nobody was looking after her mental crisis" in the morning.
Ms Scott, who had been admitted after taking an overdose, was found dead just after 13:00 at Milton Keynes University Hospital.
She had tried to leave her ward three times on the day, was "agitated" and had asked for the anti-anxiety drug Lorazepam, the inquest heard.
Mental health nurse Jenna Mojumder saw Ms Scott between 08:30 and 09:00.
Ms Scott told her she was "struggling to cope", was "worried about going home" and "didn't feel like she was safe", the court heard.
She was already a patient of the home treatment team, who would decide if she needed admitting as a mental health inpatient.
Ms Mojumder told the coroner she did not feel comfortable sending Ms Scott home without the team seeing her.
She ordered a formal assessment from the team, which is run by Central and North West London NHS Trust.
Home treatment team nurse Susanna Ametefe told the court no clinicians were available to see Ms Scott in the morning, but her notes suggested someone would have been available between 14:00 and 17:00.
The coroner said: "It's a question everybody's asking - why didn't anybody go and assess her?"
He was told it was usual to assess patients after they were medically cleared for discharge.
Mr Osborne said: "During this period there's nobody who's looking after Catherine's mental crisis. Do you accept that?"
Ms Ametefe replied: "Yes."
The inquest continues.