Caddington Village News blogger sued for libel over fraud claims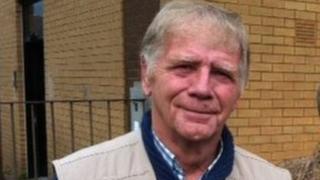 A "self-satisfied" parish councillor who falsely accused a property developer of a £10m fraud has been ordered to pay libel damages.
Patrick Smith, who ran a community blog in Bedfordshire, had reported on plans for a new ground for Luton RFC.
In 2016 he claimed developer Stephen Doyle had sent false documents to the club, and had been arrested.
A High Court judge ruled Mr Smith must pay £37,500 damages and granted an injunction against further publication.
In his judgement, Mr Justice Warby described the independent councillor, who published Caddington Village News online, as a "careless journalist who acted with a closed mind and in some respects irrationally".
The case stemmed from Mr Doyle's 2015 proposal to buy the rugby club's Newlands ground, buy and develop a new site near Caddington, and sell it to the club, the court heard.
In a July 2016 article headed "The £10m Fraud", Caddington Village News accused Mr Doyle of sending false documents to club members.
Mr Doyle complained the article's meaning was that he knew the documentation was "false and misleading" and was "guilty of concerted dishonesty".
A second article falsely claimed Mr Doyle had been arrested for "blackmail" after allegedly demanding Mr Smith reveal his source.
It also said Caddington Village News had "looked into the Stephen Doyle proposal... and unravelled a very serious set of potential illegal events".
Mr Justice Warby said Mr Smith responded "dismissively, aggressively and offensively" to Mr Doyle's complaints, posting further material maintaining that he was right and Mr Doyle and his solicitor were liars, including an image of Pinocchio next to Mr Doyle's photograph, and an image of Uncle Sam over the words "You Lie!".
The judge ruled the "defamatory imputation" of the article referring to fraud "was unquestionably a serious one".
Regarding the second article, he wrote: "I am sure that the distress suffered by Mr Doyle was increased by this further serious allegation."
Granting an injunction, he cited Mr Doyle's legal team's submission that the defendant was "big-headed, self-satisfied, unrepentant and lacks insight into the harm and distress to which his actions give rise".
He added: "The claimant is rightly concerned that without the protection of an injunction the defendant will repeat these or similar libels in future."
The judge noted that, when asked under cross-examination, he regretted anything within the articles, Mr Smith replied: "No. Nothing."