Bedfordshire Police wins extra funding for gang crime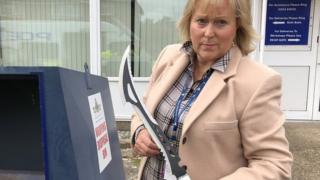 A police force has been awarded £4.57m in emergency funding to help cover the cost of fighting gun and knife crime.
Bedfordshire Police asked the Home Office for a grant to deal with an "unprecedented" rise in gang violence.
Police and Crime Commissioner (PCC) Kathryn Holloway said news of the funding was a "very welcome Christmas present".
The force is the first in the country to ask for - and win - additional cash to deal with gangs.
Ms Holloway said the fight against gang violence had placed an "unprecedented strain" on the force but the emergency funding would "cover the entire cost" of Op Bosun - its specialist response for gang, gun and knife crime.
"It's genuinely a first, that this type of grant is being paid to us," she said.
"Usually only single events which are not part of the usual workload qualify for a special grant, but I've fought all year to land the argument that the nature of the issues we face represents precisely that extraordinary challenge for Bedfordshire Police."
Chief Constable Jon Boutcher said Bedfordshire Police was facing "broader and more complex demand than ever before" and admitted the funding issues it faced was "no secret".
He added: "We have worked hard to highlight the issues of being a rurally-funded force having to deal with complex crime challenges usually seen in large metropolitan areas."
Last year, Ms Holloway said the "overstretched" force's future was "on the line" if it did not receive extra funding.
Her Majesty's Inspectorate of Constabularies and Fire and Rescue Services oversees all applications for a policing special grant and makes recommendations to the Home Office regarding payments.