M1 near Toddington fly-tipping bill cost £70k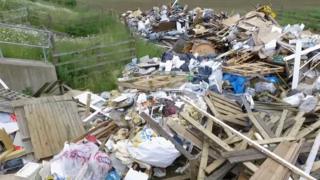 The bill to clear up 210 tonnes of waste dumped under the M1 amounted to nearly £70,000, it has been revealed.
Sofas, wooden pallets and doors were left underneath the motorway at junction 12 in Bedfordshire in June.
The clean up of the rubbish - which posed a fire risk to motorists on the carriageway above - took 16 days.
Highways England spent £68,056 removing the rubbish - more than double the £33,000 it cost to dispose of waste left in the same place in 2017.
In a Freedom of Information Act disclosure, Highways England said that the waste could not be disposed of until the eviction of a group occupying the land near Toddington on 4 June.
Following the eviction, removal of the fly-tipped material took place between 9 and 25 June.
Highways England said this was biggest incident of fly-tipping it had dealt with in recent years.
A spokesman said no one had been prosecuted as yet but investigations continued to track down those responsible.