Catherine Scott inquest: Poor communication led to death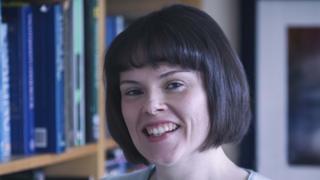 Communications failures between medical staff contributed to the death of a mentally ill writer, a coroner ruled.
Catherine Scott, 34, died waiting for a mental health assessment at Milton Keynes University Hospital (MKUH).
Recording a verdict of suicide, coroner Tom Osborne said the failures meant the necessary steps to keep her safe "were not taken".
The NHS trusts that run the hospital and mental health services say they have since changed their policies.
Ms Scott had been admitted to hospital on 21 May after overdosing on her medication. She died two days later after throwing herself off the hospital's multi-storey car park.
The coroner said that on the day of her death, Ms Scott tried to leave the ward "at least three times" and although an assessment from the Acute Home Treatment Team had been ordered, "it was not considered a priority".
In his ruling, Mr Osborne said there was "no doubt" a "failure of communication" between hospital staff and the mental health team "directly affected the outcome for Catherine".
He said: "This resulted in the serious nature of her condition going unrecognised and therefore the necessary steps to keep her safe or to detain her under the Mental Health Act were not taken."
Mr Osborne said Ms Scott's attempts to leave the ward were "noted by nurses" but had not been reported to doctors.
Dr James Bursell, associate medical director at MKUH, told the inquest that vanguard rollers had since been installed in the multi-storey car park, as well as anti-climb paint.
He said the hospital was also working to "strengthen communications" with Central and North West London NHS Trust (CNWL), which was responsible for the Acute Home Treatment Team.
CNWL's clinical director, Dr Stephanie Oldroyd, said a policy of only assessing patients once they are "medically cleared for discharge" had since been changed and said staff will eventually be able to access the hospital's patient notes.