Palm oil petition attracts attention of Kellogg's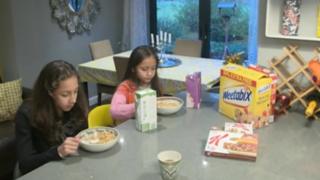 Two sisters who started a petition to ban the use of palm oil in Kellogg's products have been invited to meet the company's UK chief executive.
Asha and Jia Kirkpatrick, from Leighton Buzzard, Bedfordshire, will soon be taking their campaign from the breakfast table to the boardroom.
The girls, aged 11 and eight, started their online petition in August. It has since had almost 500,000 signatures.
In a statement, Kellogg's said it "admired the sisters' passion".
Palm oil is used in scores of everyday products from toothpaste to margarine and thousands of acres of Indonesian rainforest are being destroyed to create it. As a result, some 25 orangutans are being killed every day.
The sisters were inspired to start their petition after watching a TV documentary about palm oil production.
In their petition, they reference a Greenpeace report that states palm oil traders Wilmar are "responsible for more rainforest destruction than any other, and they are selling to Kellogg's".
"This must stop now," it reads. "Like most of our friends, we start our day eating Kellogg's cereal but we're not going to buy from them any more until they use our money to protect the rainforest, not destroy it."
After seeing the girls' petition online, Oli Morton, the head of Kellogg's in the UK, invited them to his Manchester office to discuss the matter.
Asha, who is the elder sister, is planning to ask Mr Morton to "stop using unsustainable palm oil" in Kellogg's products.
She said: "It was really sad to see the trees being cut down for palm oil. I'd like to see more companies stop using it."
Jia added it felt "good" to have had so many animal lovers sign their petition.
In a statement, Kellogg's said it "admired the sisters' passion" and said the company was "committed to protecting forests by using sustainably sourced palm oil".