LNER train 'was 100mph above' speed limit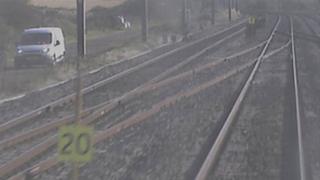 A train travelled at 120mph (193km/h) on a section of track with an emergency 20mph (32km/h) speed restriction, investigators have said.
The Aberdeen to London King's Cross service went through the section at Sandy South Junction, Bedfordshire, on 19 October.
The speed restriction was imposed on 18 October because maintenance staff had found a crack in a set of points.
The Rail Accident Investigation Branch (RAIB) is investigating.
No damage was caused and there were no injuries. The London and North Eastern Railway (LNER) service completed its journey to London.
The RAIB said: "Marker boards and associated automatic warning system (AWS) magnets were in place to provide warning of the emergency speed restriction and denote where the restriction commenced and terminated.
"The driver of the train had not received any notification of the existence of the emergency speed restriction prior to the journey."
A spokesman for LNER said: "We fully support the RAIB in their investigation and have launched our own internal review into this incident.
"Safety is of paramount importance to us and we will implement appropriate measures when we have sight of the findings of the investigation."