Waryam Hussain death: Heathrow-flee killer found guilty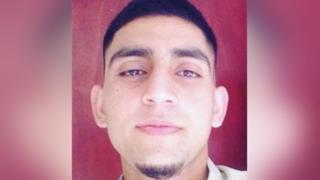 A man who fled the country the day after fatally stabbing a 20-year-old found collapsed outside a newsagents has been found guilty of murder.
Majharul Islam knifed Waryam Hussain in Luton on 6 May, then spent a night in Newcastle before flying to Bangladesh from Heathrow Airport on 7 May.
Islam, 20, of Walcot Avenue, Luton, was arrested on his return on 22 May and claimed he acted in self-defence.
He denied murder but was convicted by a jury at Luton Crown Court.
Islam will be sentenced on Wednesday.
The two-week trial heard the two men, who Islam said had known each other for 18 months, met close to Mr Hussain's home on Bristol Road at about 16:35 BST on Sunday 6 May in the Bedfordshire town.
Prosecutor Michael Speak told the jury it was there that Islam fatally stabbed the victim, near the junction of Bishopscote Road and Bristol Road, and then "ran away".
The court heard Zoe Broadfoot saw the two men who "looked like they were walking together on the pavement... she saw the arm of one of the men move towards the other in an stabbing motion".
Mr Hussain then "ran or staggered" to a McColl's newsagents on Bishopscote Road, where he collapsed.
Ms Broadfoot went over and gave him chest compressions until paramedics arrived.
"Despite best efforts of numerous paramedics and the efforts of specialist doctor who came in an air ambulance, it was impossible to save his life," said Mr Speak.
Giving evidence, Islam told the court Mr Hussain had called him across the street and pulled out a knife.
"I grabbed it. It fell to the floor. I got it and stabbed him," he said. "I was in survival mode. I thought he was going to stab me."
Islam got a 22:15 flight from Heathrow to Bangladesh on 7 May, jurors were told, before returning to Gatwick Airport two weeks later, when he was arrested.