Dunstable Amazon's traffic lights 'causing hour delay'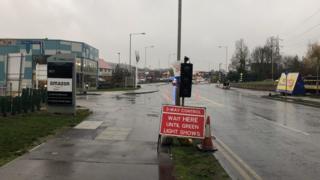 Traffic lights installed by Amazon outside its warehouse are causing delays of up to an hour, it has been claimed.
The retail giant said it installed the three-way lights in Dunstable, Bedfordshire, for safety reasons.
But other workers in the area said the lights favoured Amazon workers and made congestion worse.
Central Bedfordshire Council said it was a "temporary measure" to benefit pedestrians.
Amazon's 310,000 sq ft (28,799 sq m) fulfilment centre opened in autumn 2015 with 500 permanent jobs.
'Compounding the issue'
It said it had funded the lights for a second year to help with traffic during the Christmas period, when the company employs a "high level of extra staff".
Pedestrians had also previously gathered at the lights on Boscombe Road during shift changeovers and there had been two collisions, it added.
But road users said there were delays up to an hour at the lights, with reports of frustrated drivers failing to stop on red.
You might also be interested in:
Russell Robertson, who works at Houghton Hall Business Park, said: "It's just compounding the issue of the roads that are busy at that time anyway.
"If everyone had that option I'm sure everyone would put them in place so they could get priority getting out of their own work to get home that much quicker.
"It's very unfair on the surrounding businesses."
The council said the lights are only in operation during staff shift changes and are manually operated.
Peter Hollick, Conservative councillor for Dunstable's Watling Ward, said the issue of drivers failing to stop at red lights would be "reported to highways."
Amazon said: "We will continue to communicate with the council to find the most positive outcome for all while ensuring everyone's safety."