Two arrests after Potters Bar cannabis factory raid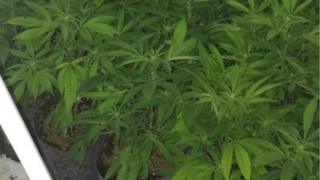 Two people have been arrested after a cannabis factory with a crop potentially worth £95,000 was found.
Hertfordshire Police said they attended a property on Willow Way, Potters Bar at about 14:55 GMT on Tuesday.
More than 230 cannabis plants were found in "well set up operation".
A man, 31, and a woman, 35, were arrested on suspicion of being concerned in the production of a controlled drug and released under investigation.
Highly hazardous butane gas canisters, used to make cannabis oil were also found, police said.
Officers believe the plants had been grown for "some time" as the property had "evidence of previous harvests".
Ch Insp Steve O'Keeffe said: "This looks like it was a well set up operation that would likely have put large amounts of illegal drugs on to the streets.
"These kinds of factories use large amounts of water and electricity and often these are siphoned from other people's supplies and can cause damage or fires to surrounding properties."