'People are trying to steal my weed off me,' 999 caller tells police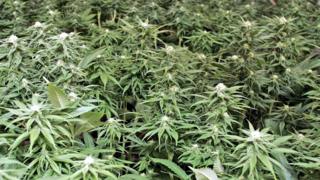 A man who rang 999 to report that someone was trying to steal his drugs, has been awarded "call of the week".
Officers from Thames Valley Police in Buckinghamshire said the caller dialled 999, saying: "Hi, people are trying to steal my weed off me."
It "isn't a call that we should be getting to our 101 or 999 phone lines, particularly when reporting the theft of your drugs", officers said.
Dozens replied on Facebook describing the caller as a "village idiot".
One person wrote: "You can't fix stupid".
Another said it sounded like the caller had been "sampling a fair bit [of the drug] himself".
A Thames Valley Police officer said the 999 call was made from the Aylesbury area.
"Officers searched for the caller but he was no longer on the scene, so no further action was taken," he added.
In the tongue-in-cheek Facebook post - alongside the serious message about misuse of the 101 and 999 service - the officers voted the weed theft complainant "call of the week" and added the hashtag #everyvillagehasone.